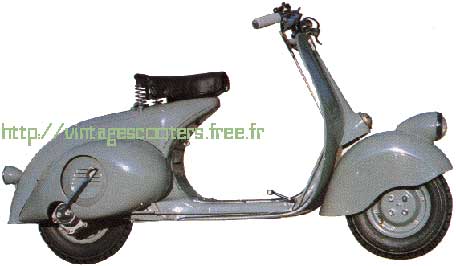 | | | |
| --- | --- | --- |
| Vespa 98 - 1946 | | |
| Year(s) of production | | 1946 / 47 |
| VIN | | V98 |
| Number | | 01 / 18079 |
| Production | | 18079 |
This is the first Vespa that gives us the myth. This succes is due to it's low price, and it's small consommation of fuel: 3 litres/100 km, for a top speed of 75 km/h and cruising of 50 km/h.
On this first model, it was equiped with an external drive shaft between the rear wheel and the motor.
Front fork use a drag type wheel with the axle and shock absorber slightly aft of the fork. It's the same thing used on landing gears of many aircraft.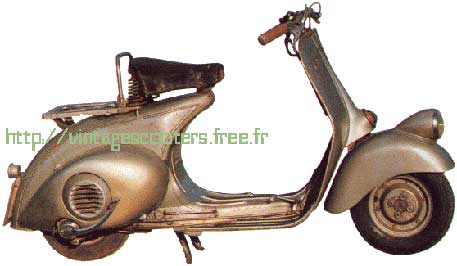 | | | |
| --- | --- | --- |
| Vespa 98 - 1947 | | |
| Year(s) of production | | 1946 / 47 |
| VIN | | V98 |
| Number | | 01 / 18079 |
| Production | | 18079 |
This model is similar to the
1946
, except the apparition of a rear rack (in option) ; the kick-starter, rear brake and saddle has been slightly transfered. During these first two years, more than 50.000 peoples were interested in buying this new way of transport.
The 98cc will be produced till march 1948 to satisfy the order in process, even if 1948 was the
125 cc
's year.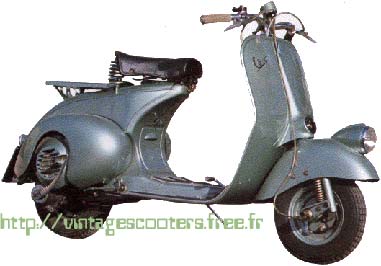 | | | |
| --- | --- | --- |
| Vespa 125 - 1948 | | |
| Year(s) of production | | 1948 / 50 |
| VIN | | V1T - V15T |
| Number | | 01 / 104096 |
| Production | | 104096 |
This 125 is based on the
98cc
from the past years. They offer more power
than other models. The rear shock absorber made is apparition this year, and the front one was modified. The front wheel was placed on the left side of the column, for a better stability when riding.
Also the 125 models were equipped with the rear-rack and the fuel-tap with a reserve position.
For the rear suspension, Piaggio put for the first time the complete motor and transmission assembly directly on the wheel and supported it by a single shock absorber.
The front fender is now build in one piece.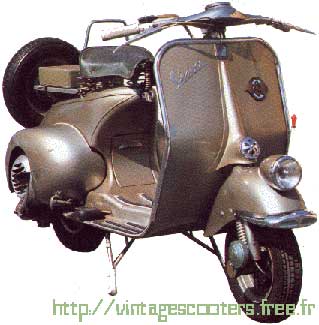 Vespa 125 Hoffmann - 1950
This vespa was produced in Germany, under the Hoffmann licence. It was in 1949 that Hoffmann and Piaggio agreed in a licence for the production and trading in Germany.
It was just slightly different from others foreign models. The differences is often due to road legislation. In France, the headlight have to be at least 50 centimeters from the ground.
In 1950, the production is rising very fast. Most of the production was launched under french

and english license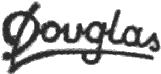 .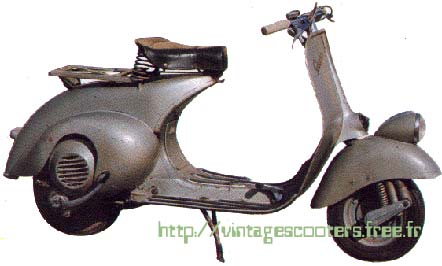 | | | |
| --- | --- | --- |
| Vespa 125 - 1951 | | |
| Year(s) of production | | 1950 / 52 |
| VIN | | V30T - V33T |
| Number | | 104097 / 251820 |
| Production | | 144724 |
During 1951, many improvements were made on Vespas. Old type of push-rod linkage (Bowden) was replaced by a new type of soft control cables for the shifter. Rear suspension was now fitted with an hydraulic shock absorber. The old style front coil spring type shock absorber was now supported by a new hydraulic absorber.
The footboard is now longer for passenger and more confort. And for the center stand, it will be available for 1949
.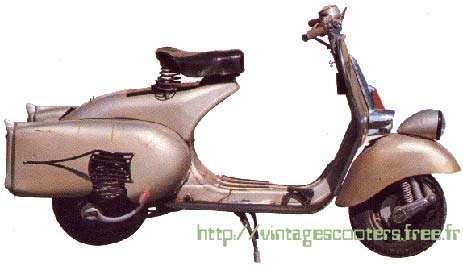 Vespa 125 "home-crafted" - 1952
This vespa was never produced, it's only what we call today a "custom". It's based on a vespa 125 from 1952.
It's in 1952 that piaggio will made for the first time a frame in 2 parts welded together. (before that, all models were made from a complete frame). It's also this year they stop using aluminium for the front fender, side panels and the carburator door. The oval exhaust silencer was replaced by a box type silencer non-visible from the outside.
In France, it was a good year. The vespa were now produced and not simply assembled in the french factory A.C.M.A.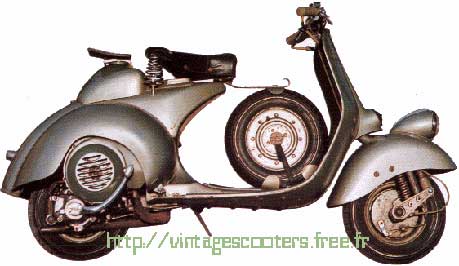 Vespa 125 "Sport" - 1952
It was just a 125, but fitted with an auxiliary fuel tank and a spare-wheel mounted inside the legshield... Around 200 models of this scooter were produced by Piaggio. 4 cm on each side of the legshield were cut to reduce the wind drag. A 22 mm Type Dellorto carburator instead of a 17mm on regular 125 models.
According to an owner (of this model) it's a very rare model and today, there's only 2 exemples who survived in the world.

Vespa 125 "U"
model of 1953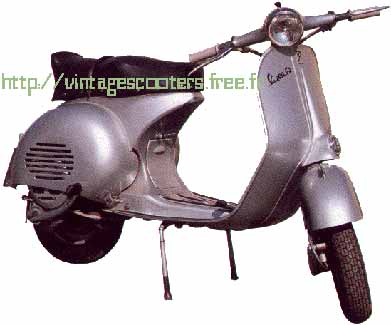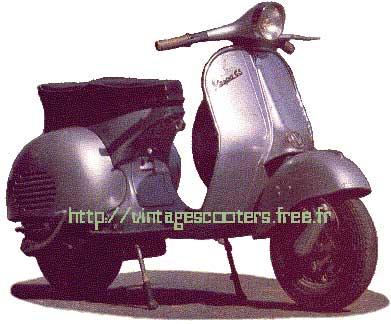 150 - 1955
First 10 models of the "Gran Sport" were produced at the end of 1954, all of these were destinated to exportation. It's only in 1955 that it will be offered in Italy. It will be also knows as "Vespone" (big wasp). It was the first sportive vespa and it will rapidly be the best seller of the brand. The 150cc motor will be introduced during 1954 with a 4 speed manual transmission, a dual seat (able to carry 2 persons). It will also use for the first time 10 inches diameter wheels. With all of theses improvements, The GS model will be able to reach a top speed of 100 km/h. A bulbed legshield on GS will also help to reduce the wind drag.
Note that this model will never be made in France by A.C.M.A because of a presumed failures prone of the GS model. They made a
GL
"Grand Luxe" to replace the GS, but finally, GS model will be imported in France soon after.
In 1961, the last 150 GS (VS5) model was fitted with the same tail-light of the
160 GS
model.
Last 150 GS models produced were fitted with control cables hidden in the handlebar (lower picture) instead of outside cables on late models (upper picture).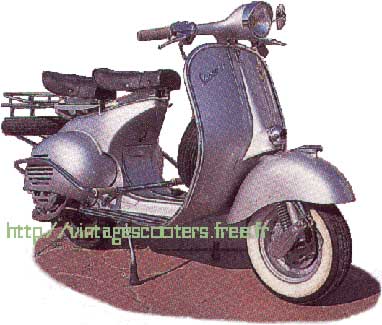 150 A.C.M.A. - 1956
This model is an equivalent of the GS model, but made in France. It was built by ACMA's factory plants in Fourchambault. All the luxe of this vespa was offered by better lighting system, an odemeter included in handlebars and night illuminated. Also 3 tires with white inserts, a confortable passenger saddle, a tool box with secure lock, a chromed legshield trim, a column lock and finally, a rear view mirror.
With its 9 inchs diameter rims and white tires, The ACMA model was very different from other scooters. GL model was built only between 1956 and 58. Only 14,083 units were built during these years. The GL was only offered in light metallic grey color.
This GL "Grand Luxe" may be confused with 150 GL 1965 who it was avalable in Great-Britain. But all britain models were fitted with a square head light and side panels like ones on
125 N
or Sportique.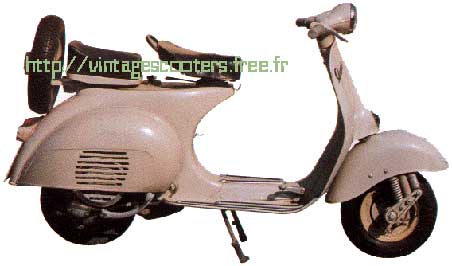 Vespa 125 - 1958
On this vespa, the fuel-oil mix is 5%.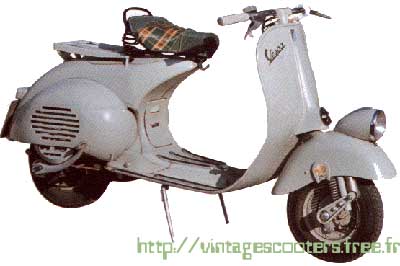 Vespa 125 - 1957
On this model, we can see the headlight mounted directly on the front fender. Its position was variable to respect any foreign road laws...For exemple, in France, this headlight was mounted on handlebars. So for Italian models (imported to France), they were fitted with a chromed decoration to hide the hole created by the deplacement of the light on the fender.
However, this Vespa 125 was nothing more than a new version of old models. So nothing special for this model.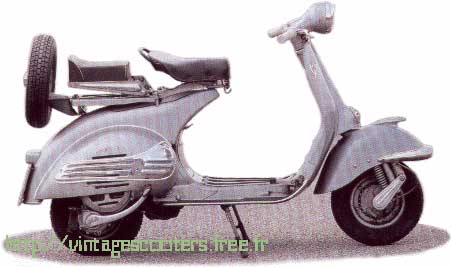 This is the basical 150cc model. The exact cubic capacity is 145,45cm3 with a bore of 57x57.
Unlike the
GS 150
which is fitted with 3.50x10 tyres, this 150 is fitted with 8". The fastener of the wheels are also different of those on the GS.
Another important difference is the gear boxe, only 3 gears on the basical 150, and 4 on the GS.
Chrome aaccessories (wing embellishers, front bumper) and the rear seat were in option.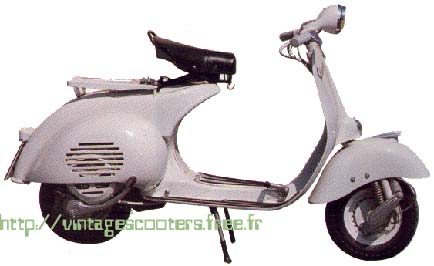 Vespa 125 - 1958
No special evolution for this model.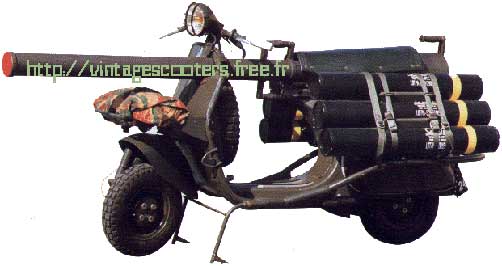 Vespa 150 A.C.M.A. T.A.P. (Troupes Aéro Portées) - 1959
This model was not commun but it was really built like this by ACMA factories in France.
It was fitted with a short manual transmission, a bigger piston but always in 150 cc (like civilian version) and a hole on the legshield to support a gun. It was possible to use this gun when the scooter was running. (but not without some shock!).
Theses military vespas were used by French army during Algerian and Indochine conflicts. They were dropped by parachute, that's why they were fitted with tubular bumpers for a protection when they touched the ground.
From the opinion of a few solders, the drivers were more often beside it to push it than to drive it... We think that only 800 of those were made. they are very appreciated by collectors.
There's 2 versions of this model, TAP 56 and 59, depending of the year of production.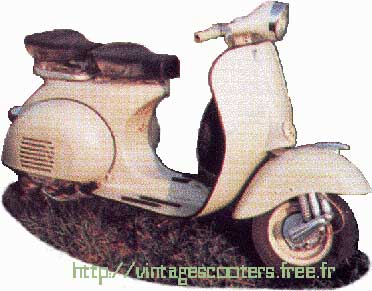 -
125 N - 1960
This model is also knows like "Sportique" in Britain.
The Vespa N was really new of we compare it to what was done before: Frame and engine are totally different.
It was the first vespa with an alloy handlebars and hidden control cables inside it.
The carb door placed under the saddle was remove and the carb is now directly connected to the cylinder.
Almost everything is new with this conception, from the kick starter to the gear selector, it's different...
All these improvements will change for ever the look of vespas. fastener for the saddle, shock absorber mounting on the motor and new style handlebar. Allo these changes will be use on next models through the PX
"N" model or "Sportique" was fitted with a 150cc motor with a 4 speed manual trans. With an oil/fuel mixture of 2%, that will help to prevent carbon deposit on the cylinder head and piston top.
During 1962, in Britain, a model named "Sportique Supreme" will be sold. It was fitted with chromed front fender and side panels, a long seat, a legshield trim, a culumn lock and a decorative chromed horn.